Sterling Metals Reports Rock Grab Samples Assaying 6,783.2 and 3,172.0 g/t Ag Equivalent from the Sail Pond Project, Newfoundland
January 6, 2021
Toronto, Ontario--(Newsfile Corp. - January 6, 2021) - Sterling Metals Corp. (TSXV: SAG) ("Sterling" or the "Company") is very pleased to announce the results of its initial reconnaissance prospecting program on its recently acquired Sail Pond project ("Sail Pond" or the "Project") located in northwestern Newfoundland. Following acquisition of the Project in October 2020, the Company immediately initiated a work program comprised of prospecting, along with bedrock mapping, B-horizon soil sampling, and a 60 km2 LiDAR and orthoimagery survey (refer to Figure 1). The results reported herein, shown in the accompanying tables and figures, focuses on the prospecting portion of the 2020 exploration program which also acted to confirm the high-grade mineralization reported from historic rock samples. Note that rock grab samples are selective by nature and values reported may not represent the true grade or style of mineralization across the property.
The highlights of the 2020 prospecting component include:
Rock grab sample 15702 collected at the site of historic trench SPTR-01 assayed 1,880.0g/t Ag, 0.38 g/t Au, 8.0 % Cu, 11.9 % Pb, 1.76 % Sb, & 4.59 % Zn, or 3,172.0 g/t Ag
Equivalent* (refer to Figures 1 & 2).
Rock grab sample 15703 collected at the site of historic trench SPTR-02 assayed 4,526.1g/t Ag, 0.9 g/t Au, 14.9 % Cu, 7.5 % Pb, 5.0 % Sb, & 9.6 % Zn, or 6,783.2 g/t Ag Equivalent*
(refer to Figures 1 & 3). Historic rock grab sample 12591 collected adjacent to the site of sample 15703 assayed 2,030 g/t Ag, 7.08% Cu, 9.40% Pb, 0.27% Zn, 2.54% Sb, 0.46 g/t Au.
The prospecting program, which was partially completed in tandem with the soil sampling program, was focused within and adjacent to the two known zones of mineralization (Figure 1). The objectives of the rock sampling were twofold: to substantiate historical rock data in the vicinity of existing trenches; and to prospect for new areas of mineralization. Both objectives were designed to help improve future drill targeting. Mineralization across the project is associated with oxide, sulfide and sulfosalt minerals strongly associated with multi-generational stratabound and orogenic quartz veining within highly folded and thrust-bound altered dolostones. More information on the mineralization of the project can be found at the company website and in the project 43101 at www.sterlingmetals.ca/sail-pond.
Mathew Wilson, President and CEO of Sterling, commented, "These results confirm and enhance the high grade nature of the Sail Pond project. Sterling is very excited to be reporting what are, to the best of the Company's knowledge, some of the highest grade silver values to ever come out of Newfoundland - and nearly twice the silver grades of the previous best historic rock samples. In addition to the high grade silver, the results continue to demonstrate extremely high base metal grades. While we certainly have created a primary area of interest with the two highest grades of silver, the remaining samples are spread across 12km of this project which we feel continues to demonstrate the high grade district potential of this project. As the Company awaits the remaining results of our soil sampling work, we have received and begun interpreting our recently acquired LiDAR data. Our partners at Goldspot Discoveries Corp. have started the process of compiling all of the known data on the project, which includes multiple campaigns of airborne and ground geophysics, soil sampling, prospecting, trenching, geological mapping, and mineralogical & structural analyses, all of which will be used to generate drill targets for the upcoming first ever drilling campaign on this district-sized high-grade silver and polymetallic project."
Table 1: Prospecting results from Sterling's first work program on the Sail Pond Project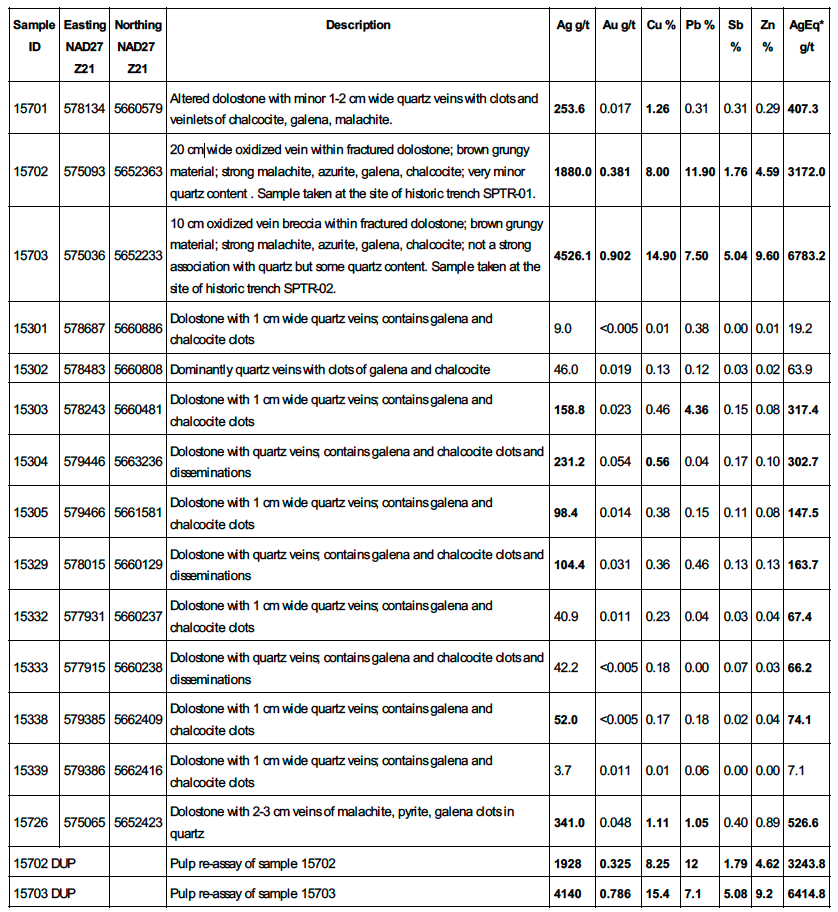 * Assumptions used in USD for the silver equivalent calculation were metal prices of $25.00/oz Ag, $1,750/oz Au, $3.20/lb Cu, $0.85/lb Pb, $3.05/lb Sb, $1.10/lb Zn and recovery is assumed to be 100% as no metallurgical test data is available. The following equation was used to calculate silver equivalence: ((Ag_ppm*0.0321507*$25) + (Au_ppb*0.0000321507*$1750) + (Cu ppm*0.002205*$3.2) + (Pb_ppm*0.002205*$0.85) + (Sb_ppm*0.002205*$3.05) + (Zn_ppm*0.00220462*$1.1))/$25.00
Qualified Person
Roderick Smith, P.Geo., Chief Geologist of Altius Resources Inc., and a Qualified Person within the meaning of National Instrument 43-101 Standards of Disclosure for Minerals Projects, has reviewed and approved the technical information presented herein.
Analyses were completed at Eastern Analytical's Springdale, NL facility using a 34-element ICP analysis and along with the fire assay method for Au. The pulp duplicates derived from samples 15702 and 15703 were re-assayed and select elements are reported in Table 1.
About the Company
Sterling Metals is a mineral exploration company primarily focused on Canadian exploration opportunities. The company is exploring for silver and base metals at the Sail Pond project in Northwestern Newfoundland.